Ever lose a good client? Make a bad hire? Fail to retain top talent? Have a project flop? Experienced unnecessary conflicts within your team? Had a merger go poorly? Miss a profitable investment opportunity? At their root, such disasters usually result from a series of bad decisions. You can usually identify these bad decisions looking back, but what if you could prevent them in the future? How much money, time, reputation, physical health, and emotional well-being could you save?
Unfortunately, research shows that the vast majority of leaders, organizations, teams, and individuals do not invest nearly enough resources into avoiding disasters through improving their decision-making. Poor decisions come from faulty wiring in our brains that causes flawed thinking, feeling, and behavior patterns – what the scientific literature calls cognitive biases. Fortunately, recent scholarship shows we can address these problems by using strategies described in the academic literature on decision-making and emotional and social intelligence.
My primary vocation as a Disaster Avoidance Expert is adapting these science-based strategies to the everyday reality of businesses and nonprofits, as well as to the private lives of individuals and to the needs of our society as a whole. Since 2005, I have studied these topics extensively as a scholar and Assistant Professor at Ohio State University, and have given numerous speeches and trainings in business and nonprofit settings. Smart, forward-looking leaders in mid-size and large organizations hire me as a consultant to avoid losing money and time, as well as harming the organization's reputation and team morale through suffering disasters.
My articles on these topics appear regularly in well-known publications, including Time, New York Daily News, Psychology Today, The Conversation, Salon, Scientific American, Lead Change Group, The Chronicle of Philanthropy, The Huffington Post, and many others, as well as in over 25 peer-reviewed academic venues. I am an author, most well-known for Find Your Purpose Using Science, and am currently writing Avoiding Disaster Through Wise Decision-Making. Radio, TV, and online media have sought me out for a host of guest appearances. To help our society, my public activism involves service as the volunteer President of a nonprofit organization, Intentional Insights, which promotes wise decision-making in all areas of life. Its current focus is on advocating for truth and rational thinking in politics through the Rational Politics project, and especially the Pro-Truth Pledge. You can click here for a fuller bio.
I invite you to connect with me via LinkedIn, Facebook, and Twitter, and email me about my consulting, speaking, media appearances, or public activism: gleb (at) intentionalinsights (dot) org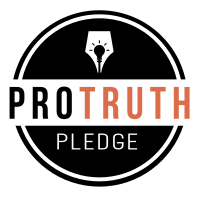 I signed the Pro-Truth Pledge:
please hold me accountable.