My Services
With nearly two decades of professional speaking experience from 1999, I frequently give speeches for various organizations, associations, conferences, and civic groups on effective decision-making, emotional and social intelligence, and other topics. My speaking expertise draws not simply on my extensive experience, but also on my in-depth graduate school education in adult learning techniques. My presentations thus connect my content matter with the audience's knowledge and life experience, encourage self-directed and peer-to-peer collaborative learning, and make the topic highly relevant and practical. I am a member of the National Speakers Association, and you can access my

profile the at this link

. For f

or my Speaker One Sheet, click on this link.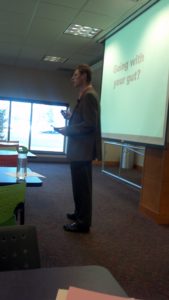 Caption: Dr. Gleb Tsipursky giving a speech on wise decision-making
I also offer targeted training on various aspects of these topics for small groups.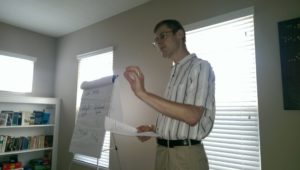 Caption: Dr. Gleb Tsipursky providing training on emotional and social intelligence in a small group setting
My 3 Money-Back Guarantees
I guarantee that as a result of my speech, you will gain the following, or I will be happy to refund your money

You will realize something about yourself you did not realize before
You will learn something about other people you did not know before
You will have at least one no-cost action step you can take away and apply today to save you money, time, and stress
Sample Presentation Topics
"Avoiding Disasters Through Science-Based Decision-Making"
Have you ever regretted decisions that led you or your organization down the wrong path? Our brains make predictable errors that steer us toward disastrous decisions. This presentation illustrates some of these errors, and gives pragmatic science-based strategies for how to navigate around these errors and avoid disastrous decisions in the workplace.

"Helping Your Clients Succeed Through Emotional Intelligence"

Isn't it frustrating when you know what your client needs to do to succeed, but the client just won't listen to you? Or perhaps your client does listen during your meeting, but then doesn't do what you agreed on afterward? How do you address that problem? Too often, the problem stems from the client's emotional landscape, which creates resistance obstructing the client's success. This presentation uses recent research from psychology and cognitive neuroscience to help you convey your message effectively through emotionally intelligent communication to help your client both internalize and implement your suggestions successfully.
"Engaging Employees Through Creating a Meaningful Workplace"
Your bottom line depends on your employees being as engaged and invested as possible. Research on companies with highly engaged employees shows the importance of creating a sense of a meaningful workplace to do so. This presentation shows the simple and cost-effective sense to creating a meaningful workplace to help maximize your bottom line.
"How To Reach Your Goals in the Workplace"
Did you ever have the experience of knowing where you want to go, but not how to get there? Or how about trying to get to where you want to go, but missing your target, month after month? Recent research on goal achievement suggests some simple and effective strategies that you can take to reach your goals, as an individual or an organization.
"Cultivating Trust and Integrity Through Behavioral Science"
Trust is the vital if invisible glue holding an organization together, and research shows that a lack of trust within an organization profoundly damages 

employee engagement, retention, and productivity. T

rust is based on a foundation of integrity, and much recent behavioral science research highlights how to cultivate a culture of integrity to avoid the disasters resulting from insufficient trust within an organization. This presentation describes the benefits of trust, and suggests a series of easy-to-use, research-based strategies to strengthen integrity within your organization."
"Leadership Success Through Research-Based Emotional Intelligence"
While vital for leadership success, emotional intelligence has become a diluted and fuzzy concept. This presentation focuses on the actual research behind emotional intelligence and science-backed strategies for how leaders can use emotional management, empathy, and emotional contagion to achieve their workplace goals.
"Cultivating Socially Intelligent Organizations"
Research shows that most of our decision-making and behavior is driven by emotions, yet most organizations act as though humans are rational creatures. Applying the research on social intelligence helps organizations make wise policies and communicate effectively to internal and external stakeholders to achieve organizational goals.
Sample Talk Videos
Help Clients Avoid Disasters Through Science-Based Decision-Making 
Getting What You Want: Refining and Reaching Your Goals
Help Your Clients Succeed Through Emotional Intelligence

Finding Purpose and Meaning: Intentional Living Workshop
Make Wise Decisions by Seeing the Truth
Sample Testimonials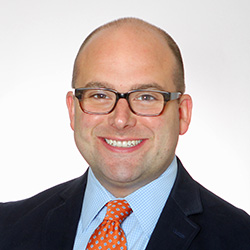 Written feedback from Dan Sharpe, who serves as the Executive Vice President of The Columbus Foundation, who organized a training I provided on "Avoiding Nonprofit Disasters Through Decision-Making Science"
Our community leaders benefited from Dr. Tsipursky's expertise, presentation, and insights during a Columbus Foundation Nonprofit Forum. We collaborated to bring a "Science of Decision Making" presentation to the central Ohio nonprofit community. The content was delivered in a digestible way that covered high-level theory, while also providing tactics and tools that could be immediately implemented. The audience had very positive feedback, and I was pleased to be able to offer the content, and expertise to the sector.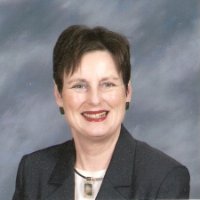 Written feedback from Eleanor Meekins, MSA, CPC, CIR, ACIR, CSSR, CDR Program/Education Director Affiliate Member, who organized a training I provided to the International Coaches Federation Columbus Chapter on "Help Clients Avoid Disasters Through Science-Based Decision-Making"
Dr. Gleb Tsipursky presented "Help Clients Avoid Disasters Through Science-Based Decision-Making" to the International Coaches Federation of Columbus on 4/10/2017. He responded to every request I made for documents, etc., immediately. His presentation style is warm and engaging. His presentation and slides were excellent. Even the most senior coaches (25+ years coaching experience) were really surprised and impressed with the information he gave us. Several want to see him again, and some even want an all day training session! He is a snap to work with, has very interesting scientific information, and is a delightful presenter. I highly recommend him!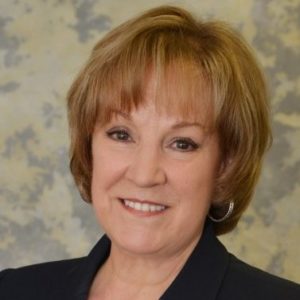 Written feedback from Susan Lear, President/CEO, GLA Employee Assistance Provider, who organized a training I provided to the National Association of Women Business Owners Columbus Chapter on "How Women Leaders Can Avoid Disasters Through Science-Based Decision-Making"
Gleb presented to members of the National Association of Women Business Owners. He spoke to us about common pitfalls of decision making and how we may avoid them. His interactive presentation provided many takeaways, even for the solopreneur and microbusiness owner. Of particular note was Gleb's depth of knowledge as evidenced by how thoughtfully he tailored his message to an audience of female leaders.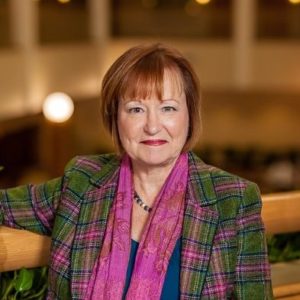 Written feedback from Peggy Wibble, MHRM, SPHR, Organization Effectiveness Expert and Leadership Coach, who organized a training I provided to the Capital City Organization Development Network on "Help Clients Avoid Disasters Through Science-Based Decision-Making"
Gleb applies the discipline of his research to the practical tools he has crafted for effective decision-making.  CCODN benefited greatly from his expertise, as well as his clear, thought-provoking and interactive facilitation.  He is both learned and passionate — well positioned to enlighten and guide organizations to growing their effective decision-making capacity.  We are glad he is part of our learning community.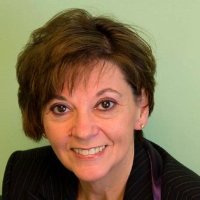 Written feedback from Teresa Trost, Executive Director of Community Shares of Mid Ohio, on a training I provided on "Avoiding Nonprofit Disasters Through Decision-Making Science"
"I just wanted to say thank you for a great session. I will never approach decision making the same again. You gave me some wonderful insights on cognitive biases and how they influence our decisions. I plan to use your premortem process with my team, and our board. I am also eager to do more research on cognitive biases. Very interesting. Thank you again for valuable education that will support my work."
Video feedback from Jeff Dubin, a social worker and the President of the Humanist Community of Central Ohio, who organized a training I provided on "Find Your Purpose Using Science" 
Sample Presentation Descriptions
The Secrets to Avoiding Disaster: A Science-Based Guide to Success for Leaders
No one wants to see a disaster in their workplace, yet they happen all the time, from everyday disasters such as a new hire not working out to major crises that may lead to bankruptcy. The large majority of these disasters are preventable, and stem from one or usually a series of poor decisions. In hindsight, we can clearly see which decisions led to disaster: wouldn't it be wonderful to be able to predict these bad decisions in advance and avoid them? Fortunately, you can learn how to minimize everyday mishaps and major disasters through applying decision-making science.
The core activity for current and future leaders at all levels is leveraging their resources, knowledge, reputation, and organizational authority into pursuing their organization's goals. To do so, leaders need to navigate a strategic environment of uncertainty, ambiguity, and change to coordinate multiple stakeholders with somewhat competing interests and differing personalities and thinking styles. All this involves a host of challenging and difficult decisions that require finely tuned decision-making skills.
Yet very few of us reflect on and strive to improve the process by which we reach our decisions – what is known as "meta-decision making." This is despite the fact that making decisions forms the basis for everything we do in our jobs and in life more broadly, making skills in this arena vital to our success. Even fewer get professional development in improving their decision-making, resulting in a cycle of regrettable decisions and bad outcomes. Fortunately, studies show that training in decision-making, especially ones that integrate both intuitive and analytical thinking into a synergistic whole, can drastically reduce such disastrous decisions by individuals and teams. This presentation draws on research in decision-making and emotional and social intelligence as well as real-world case studies to help optimize the process of decision-making for leaders, teams, and organizations.
Learning Objectives:
How to gain awareness of and escape the cycle of making decisions you and your team later regret in your workplace, thus avoiding disasters, big and small
How to identify a series of problematic thinking and feeling patterns  – what scholars call cognitive biases – that cause us to make regrettable decisions
How to take advantage of recent research in behavioral sciences to deal with cognitive biases in the workplace
How to combine intuitive and analytical thinking to help you make the best possible decisions in an environment of uncertainty
How to adapt this research to your needs through easy-to-use strategies for effective decision-making
How to help yourself and your team implement these strategies thoroughly for optimal decision-making processes
How to exert influence effectively on team decision-making from any role in the team, while helping maintain trust, engagement, and commitment among team members
How to identify the competing interests of multiple stakeholders, especially in a context of uncertainty and transition, and coordinate them to achieving the organization's goals
This presentation will thus help you make and implement wise decisions in all areas of your organization, to help you and your team avoid losing money, time, experiencing stress, and hurting your reputation and morale, thus minimizing the possibility of either small mishaps or major disasters.
Sample Agenda (for a 90-minute seminar, can be shortened to a TED-style 20 minute talk or expanded to a whole-day seminar as needed):
5 minutes to solicit recent major decisions that those in the room are considering and what challenges they think they might face in the decision-making process
30-minute mini-lecture on the science of decision-making and thinking errors to avoid, with case studies informed by the needs of audience members, including some integration of decisions that those in the audience brought up in the first 5 minutes
10-minute Q&A on the science of decision-making and how it applies to the decisions those in the room are considering
10-minute mini-lecture on the premortem exercise, a research-based strategy that helps address in advance ways that major decisions might go wrong
20-minute group activity where audiences members go through the premortem in groups, with each individual having an opportunity to share about an upcoming major decision and get feedback from group participants about things that might go wrong and how to avoid them
5-minute discussion of what the premortem exercise helped audience members realize about how to address the problems in their upcoming decisions
10-minute Q&A on the whole talk
Key Take-Aways
Our emotions are central to decision-making, but they may steer us into disasters in systematic, predictable, and avoidable ways
We must learn our own problematic thinking and feeling patterns to avoid disasters through combining intuitive and analytical thinking
Team decision-making is most effective for making the best decisions, but needs to use systematic decision-making to prevent disasters
Want to find out more about my speaking/training or hire me? Contact me at gleb (at) intentionalinsights (dot) org!